When we are alone on a starlit night,
when by chance we see the migrating birds in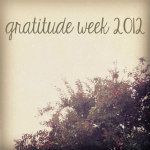 autumn descending on a grove of junipers to
rest and eat; when we see children in a moment
when they are really children, when we know
l
ove in our own hearts; or when, like the
Japanese poet, Basho, we hear an old frog
land in a quiet pond with a solitary splash -
at such times the awakening, the turning
inside out of all values, the "newness,"
the emptiness and the purity of vision
that make themselves evident, all these
provide a glimpse of the cosmic dance.
~Thomas Merton

-My husband, Mike
-My daughter Erin, her
husband John and their
wee one Emerson.
-My son, Michael and his
wife Jordan
-My son Charlie and his
wife Ashley
- My sons Peter and Alex.
-and I am grateful for
You...
-as we float along on
this journey called life,
it's a beautiful feeling
to know there are so
many fantastic people
traveling with me.
I'm having a blast!
Have an awesome weekend.
UpDate: Ooops!
I am very grateful for my
mom and two beautiful
sisters!