I thank you God for this most amazing day,
for the leaping greenly spirits of trees, and
for the blue dream of sky and for everything
which is natural, which is infinite, which is yes.
~e.e. cummings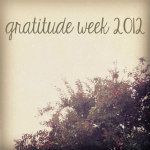 I am grateful for:
-This place I call home.
-Pine trees Mike and I
planted together almost
eighteen years ago.
-Learning to knit,
although I really think
I was a knitter in a past
life ;)
-The body of one
Annabel almost complete,
-and the casting on of
the last one which
will complete almost
half of my Christmas
list.
-Project Stash: KAL
and many pairs of
mittens and fingerless
gloves off the needles,
-and another pair just
taking shape.
-Audible books. I am really
enjoying Gone Girl's story
line even with the garbage
mouth language. I wish
people would realize there
are so many lovely words
that could be used instead
of trash.
-Yarn Along each week,
which keeps me motivated
and inspired.